From a young age we watched & were read stories about heroes. Watching sporting champions go from strength to strength, breaking records & having an enormous adoring audience cheer them on. Constantly feeding our minds stories of others who 'against all odds' continually conquered their enemies.
Whether it be beast, foe or a journey to find true love. Romancer or warrior. We all crave for the underdog to win. In love & war; in boxing movies, to be the Rocky in our own life. We are a generation of people hungry to be the star of our own story. And we all can be. As long as we have a clear goal that we will see through no matter what obstacles come our way.
RESILIENCE!

No matter what the challenge ahead, we all have an ability to win within us. Sounds so simple to say out loud yet, one thing the fairy tales did not prepare us for was the time it sometimes takes to grow into the victor we so deeply admire. I know I personally, have had to learn that a business plan drawn out is simple (in the mind). To back it up with the amount of work and effort it requires to get off the ground is where you will have to dig deep and find your inner hero.
It takes courage. It takes a champion attitude in the mist of pain and agitation. Writing down on a piece of paper what you want is easy. Yet most people don't even do that scared of the outcome of actually achieving it. Setting yourself apart from the masses & growing into that, can sometimes take years of practice and delayed gratification.
We have to be able to cop the smaller punches to then be able to get back up after the knock-outs. Following nothing but a small whisper of intuition that tells you everything is going to be ok. Growing more resilient with every hit. Slowly putting into practise a set of completely new habits that others will look at from a distance later on in your journey and say stupid things like;
Yeah But " They were always like that"/ "They were Lucky" / "I would be where they are too if I had a natural talent for"…  Throw away comments to satisfy the excuses for why they are where they are in life.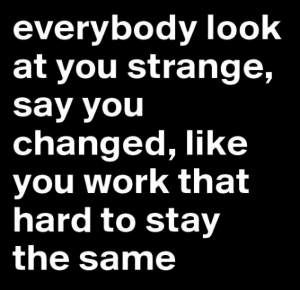 This movie montage experience growing up led us to believe that it can be a 5 minute process of just deciding to change and then having your whole world turn upside down and BAM! We are successful millionaires.. Right place, right time. We went to the gym 5 times and got a six-pack. We went to a 3 day weekend seminar which automatically turned us into an overnight success. Oh and of course -Luck! We will win the lotto one day & then our life will finally be in order…… (Don't get me started on this one…)
I hope you understand I always mean this the utmost respect. Sometimes we all (myself included) need a reality check to prevent us from sucking on our thumbs for too long. Have a clear picture in your mind as to what you want in life & after you do, Please NOTE: you will be challenged. No one has ever breezed through life unscathed in the process. We have all been denied, pushed back, rejected. Depends on how you look at it. We could say instead that; we have all been forced to change our approach due to little or no take up on our original pitch or idea… maybe? …
The point is: We are all humans. We all have weaknesses. We all have ego's. The brilliance of being a hero in your own story is you control the outcome. So the question I wish to leave with you is: When you look at the story of your life;
Are you the hero? Or do you have some work to do?